In partnership with over 200 community-rooted organizations, the Washington State Department of Health and Desautel Hege have compiled a bank of COVID-19 and public health resources, campaign material and partner assets for use in community-driven public health outreach efforts. Resources | Community Partner Page
Leveraging media to promote public health education within the Asian community
APARTNERSHIP is an organization committed to serving the Asian community in collaboration with 18 partnered organizations throughout Washington state. The organization is aligned with its partners on promoting COVID-19 awareness, reducing vaccination hesitancy, and addressing health inequities in the Asian community.
APARTNERSHIP aims to reinforce the social determinants of health to be­tter equip communities with resources and strategies that strengthen the community before future public health threats or emergency.
Fact sheet (PDF):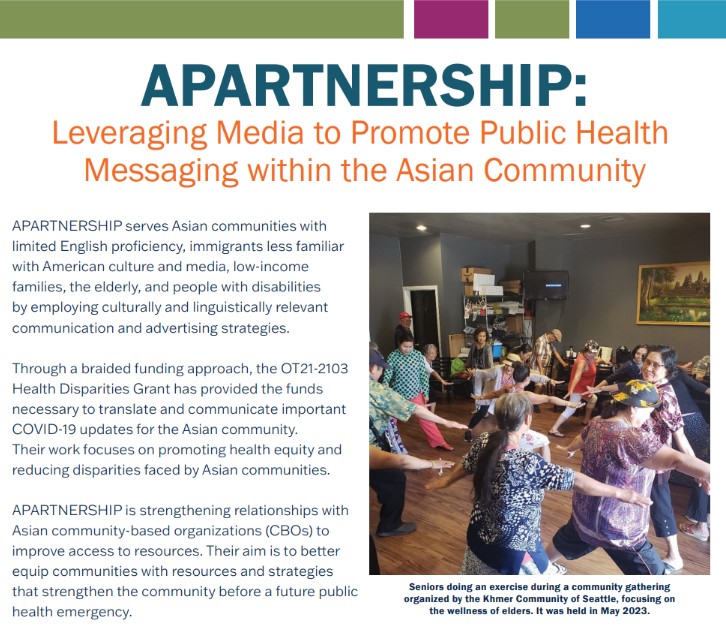 Yakima Valley Community Foundation: Bridging the gap to meet rural community needs
Yakima Valley Community Foundation (YVCF) is dedicated to strengthening community capacity and ensuring equitable access to health care for Hispanic and Latino communities in Yakima, Adams, Grant, and Kittitas counties. Their work is centered on three key areas: quality education, health and well-being, and civic vitality.
Yakima is the third community-based organization the Community Relations and Equity (CRE) team highlights in our 10-part series on organizations leading efforts to reduce COVID-19 disparities in underserved populations in Washington.
Fact sheet (PDF):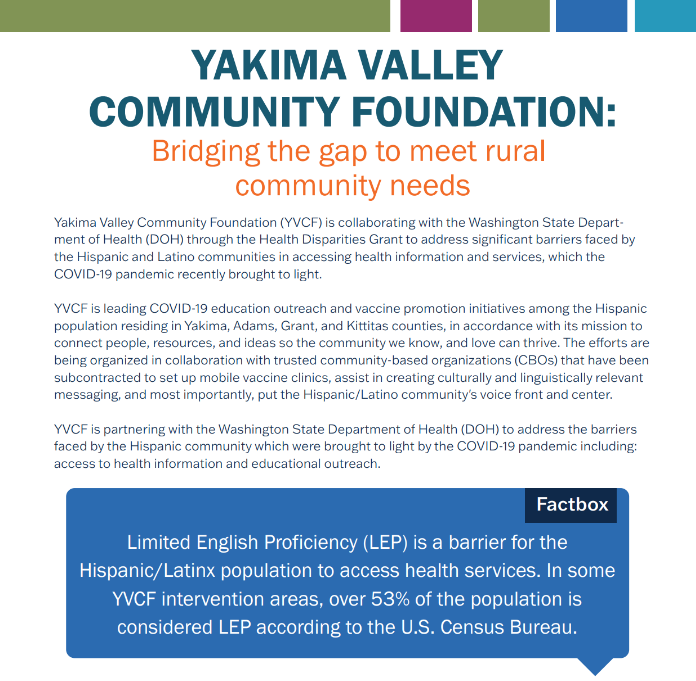 ---
Centro Cultural Mexicano addresses barriers faced by Hispanic/Latino communities
Centro Cultural Mexicano is an organization committed to empowering Hispanic/Latino communities by providing access to opportunities for basic needs, including housing and education, using media to provide culturally and linguistically appropriate resources for mental health and COVID-19 prevention.
Fact sheet (PDF):
---
COMAGINE
COMAGINE is a national organization that employs the Community Health Worker model to empower African American communities to make informed health decisions, gain access to validated health resources and achieve health equity.
Fact sheet (PDF):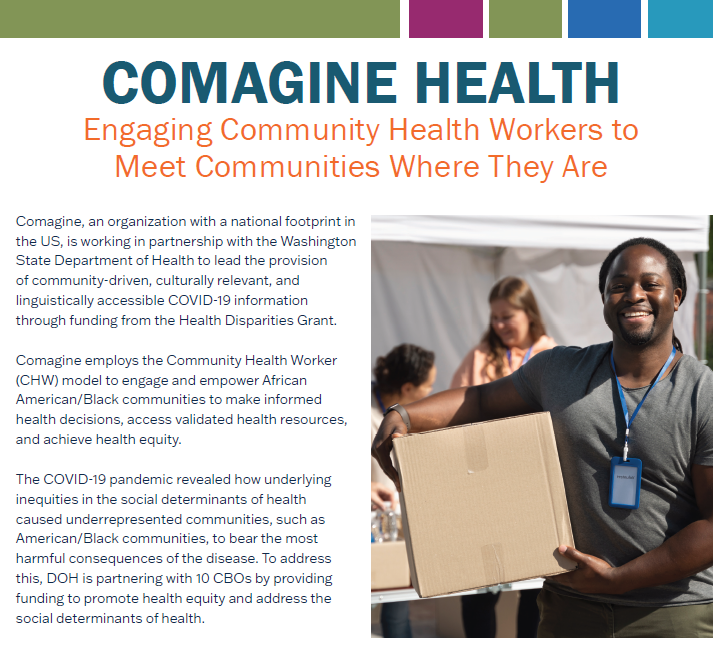 ---
Desautel Hege
Mobilizing behind community partners' needs to advance health equity. Desautel Hege is a communications and branding agency dedicated to reaching out to diverse populations throughout Washington state. The Department of Health contracted Desautel Hege to provide technical support to contracted community-based organizations in the design and development of culturally appropriate COVID-19 information and resources through the Health Disparities Grant.
Fact sheet (PDF):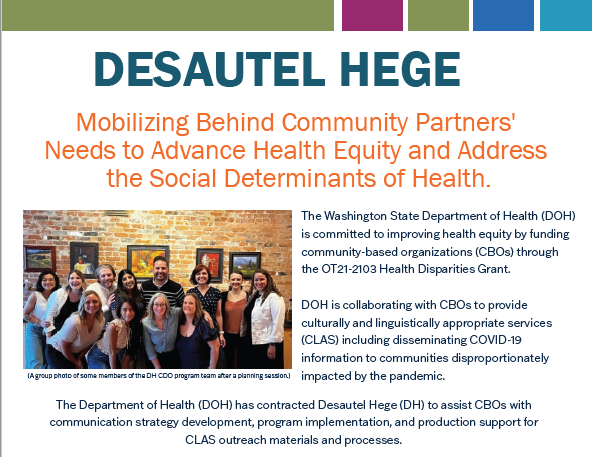 More Community-Based Organization Fact Sheets will be posted as they are completed.