About Regional Health Offices
 
The state Legislature directed the State Department of Health (DOH) to establish regional health offices in the 2021 legislative session. Department of Health regional offices will allow us to do our core work better and in ways that support and meet our local and tribal public health partners where they are and in a way that responds to community health needs and strengthens the delivery of public health services. The proviso does not grant DOH any authority beyond those that currently exist for the agency.
DOH is currently in Phase 2 of its plan to implement RHOs. In this phase we will finalize our operational plan, evaluate, adjust, and expand as needed. 
What services will RHOs provide?
Each regional health office (RHO) will serve as an easy entry point for partners for access to a regional liaison and a medical officer. Resources may include:
Assistance with unanticipated vacancies or workforce gaps
Consultations with medical officer or regional liaison – how can DOH help?
Support and resources for convening partners, if needed
A point of contact to bring resources and support within DOH together as needed
Additional people who know and care about your communities and want to improve the health of people in Washington by making sure the state is doing all it can to fulfill its role.
Helping to support and strengthen the system
RHOs are not creating a new layer within the governmental public health system. They are DOH offices and are part of the system to help provide additional supports for the system.
They will support partners in their regional geographic areas but may also work across the system to help fill a need in another part of the state—or even collaborate systemwide to help build supports that can be adapted for use by system partners in any part of the state.
RHO positions won't work in silos. Employees at RHOs will be part of the appropriate DOH office/division, will follow DOH policies and guidance, and will have access to central DOH support and resources.

What are the regions?
 
The four regions were developed to help DOH decentralize its current work, dividing the state into four operational areas to maximize functionality as an entry point for communities. The size and boundaries are not an attempt at grouping by population, number of counties, or commonalities.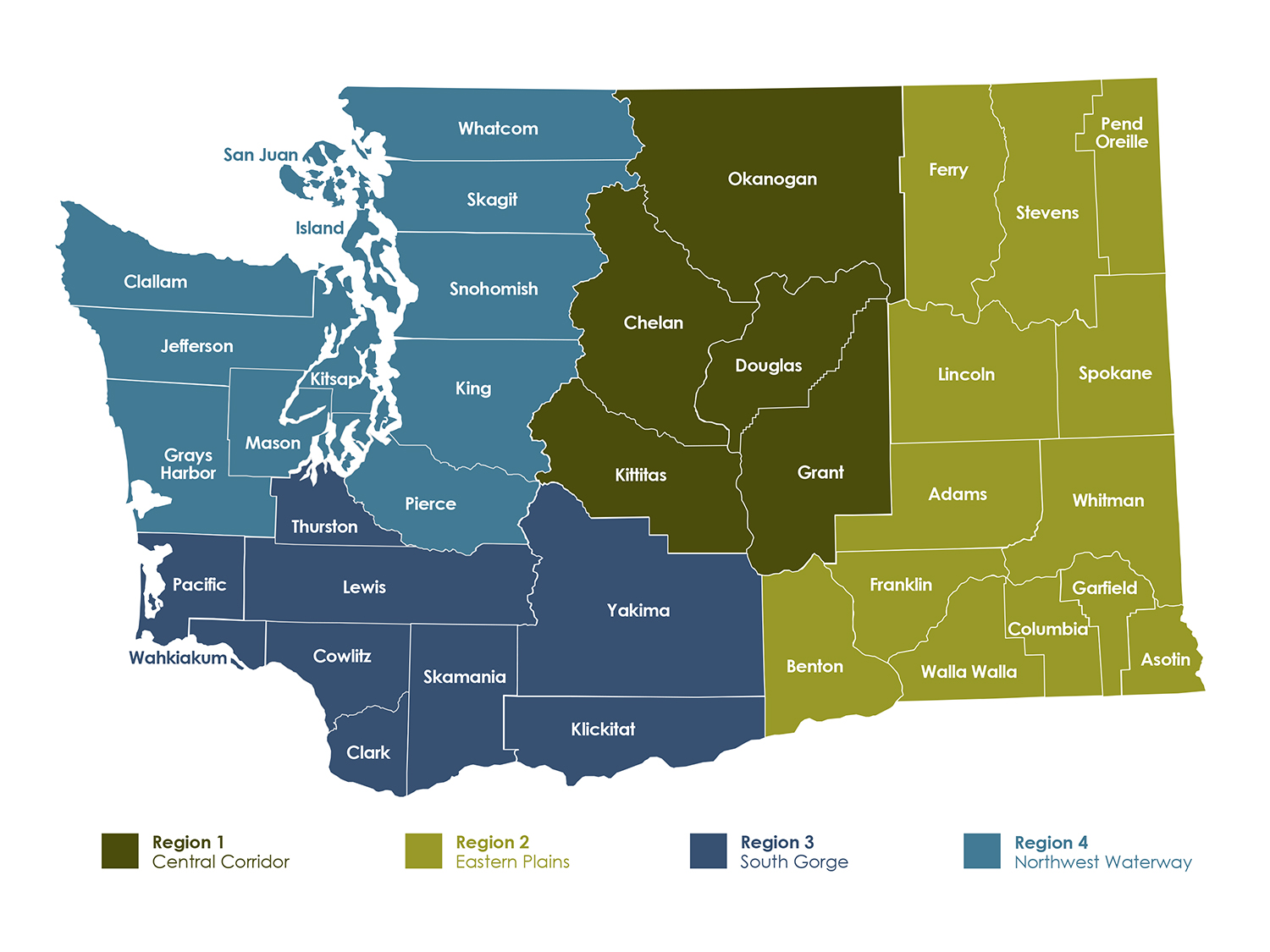 Learn more

Contact us
Governmental public health system partners can email LHJEngage@doh.wa.gov with questions, comments, or assistance requesting DOH support.